The concept of vacation and relaxation has changed over the past year as a worldwide pandemic caused us to pause and look at life differently. Staycations, work-from-home, remote learning, and homeschooling all rose to the forefront as traditional venues closed or transitioned into something different. Many families decided to vacation close to home, at a local cabin, or at remote camping destinations. Others opted for theme parks and beach vacations. Still others passed up planned trips, out of the country or by cruise ship, due to travel restrictions. More recently, we see destinations opening back up and family time and relaxation being a central theme to life as we know it.
This year our family decided to travel out-of-state and chose an all-inclusive vacation option at Club Med Sandpiper Bay, where we could ALL have fun, enjoy, and relax. If you have children and have never opted for an all-inclusive resort, there are so many reasons to explore this type of travel! Here are just a few:
Children's Clubs for Ages 4-17 are broken up by age groups and activities. Parents can check their child in for daytime and evening activities and fun that are scheduled and designed for either drop off or partial day. Your kids will enjoy games, pool time, sports activities (like learning trapeze with skilled teachers) and age appropriate entertainment. Younger kids have dedicated pools and playgrounds, while older kids have game rooms, crafts, movies, scavenger hunts, and more! There is even childcare for children under four years of age (additional charge) and a bottle room that provides parents with food preparation items they need for their little ones. Did I mention that children under four years of age stay for FREE? Children five to seventeen also receive discounts between 30% to 50% off. So, your kids can stay with you or you can have adult designated time while your child is taken care of and entertained with other kids their same age in the Children's Clubs.
Unlimited Water and Land Sports are available most of the day. We enjoyed the opportunity to take golf lessons from an LPGA Award Winning Instructor and improve our putt. Tennis and golf instruction are available each morning by current level of expertise. There are also putt-putt golf, bocce ball, soccer fields, basketball courts, pickleball courts, volleyball courts, and sports equipment available during your stay. One of the best parts for my daughters was learning to flip and swing on the high trapeze! Water sports were also a big hit. Paddle boarding on the river inlet was a great adventure with dolphins playing in the distance. You and your family can also take a fun sailing lesson or kayak trip around the peaceful St. Lucie River and enjoy the beautiful sunset.
All Day Gourmet Dining and Open Bar with several locations on-site. There is an international buffet that is available for breakfast, lunch, and dinner. Also on-site is a waterfront restaurant available by reservation at night during available times. Just in case you miss a designated meal time, there is a snack bar that is open in-between standard meal times so that you and your family are never without food or drinks close-by. There are several bars on the resort for access to non-alcoholic and alcoholic drinks most of the day. The food was absolutely amazing and each meal time had a theme (French, seafood, Latin, etc.) as well as traditional meals like pizza and burgers for the kids. Our favorites were the gourmet fresh fish dishes and amazing deserts (even a gelato bar)! As a mother, I can not say enough about this amenity of the resort. Mothers rarely have the opportunity to enjoy a vacation without meal planning, budgeting, and meal preparation (and of course clean up). This element made our vacation truly from a parent's perspective.
Day and Night Entertainment is provided in different locations throughout your stay. You can enjoy trivia at the bar, bracelet making for families, tie-dye shirts by the pool, sailing regattas, a trapeze show, movies, dance-offs, etc. The entertainment, crafts, and games vary by day. You can find out what is going on with access to the daily schedule through the tablet in your room. It is updated every day for resort events and activities. Each day even has a designated color scheme. You can join in the Club Med fun by dressing in the assigned color scheme!
Free Unlimited Wi-Fi and Work Space for Business and Remote Learning is included in your stay. A shared space is available to work on business and school related projects. You can work/study inside a dedicated area or outside on the patio. This resort caters to remote workers (over 18 years of age) and school-aged children (4-17 years of age) with work and learning areas that offer the ability to have remote fun for families once the work and school-days end. Make sure you ask about the convention area for any work retreats or wedding/party needs. While we were there we passed a beautiful sunset wedding overlooking the water at the on-site gazebo.
Enhanced Safety Measures and hygiene protocols across the resort. Not only do employees wear masks (and gloves with food preparation), but each room is fully sanitized when you check in. Hand sanitizer and social distancing markers are located around the property. The lobby and restaurant even have high-tech scanners that tell you if your temperature is in the normal range (and remind you to put on your mask in these common areas - they can actually detect if your mask is down). There is also a doctor and nurse available 24/7 on the resort if needed. Additional measures are taken at this time to limit capacity to ensure social distancing is possible. Most importantly to us though, there are spacious outdoor areas where you can enjoy the sun and activities in the fresh air while being socially distanced.
So, however you vacation, it is important to take some time to relax and unwind during these stressful times. Take a moment to appreciate the beauty around you, the warmth of the sun, and precious moments with your family. I highly recommend Club Med's All Inclusive Resorts as a getaway that allows you to truly enjoy and relax. There is something to do for every member of your family and daily planning, cooking, cleaning, budgeting, and the like are off the agenda - so your agenda can be fun in the sun making family memories!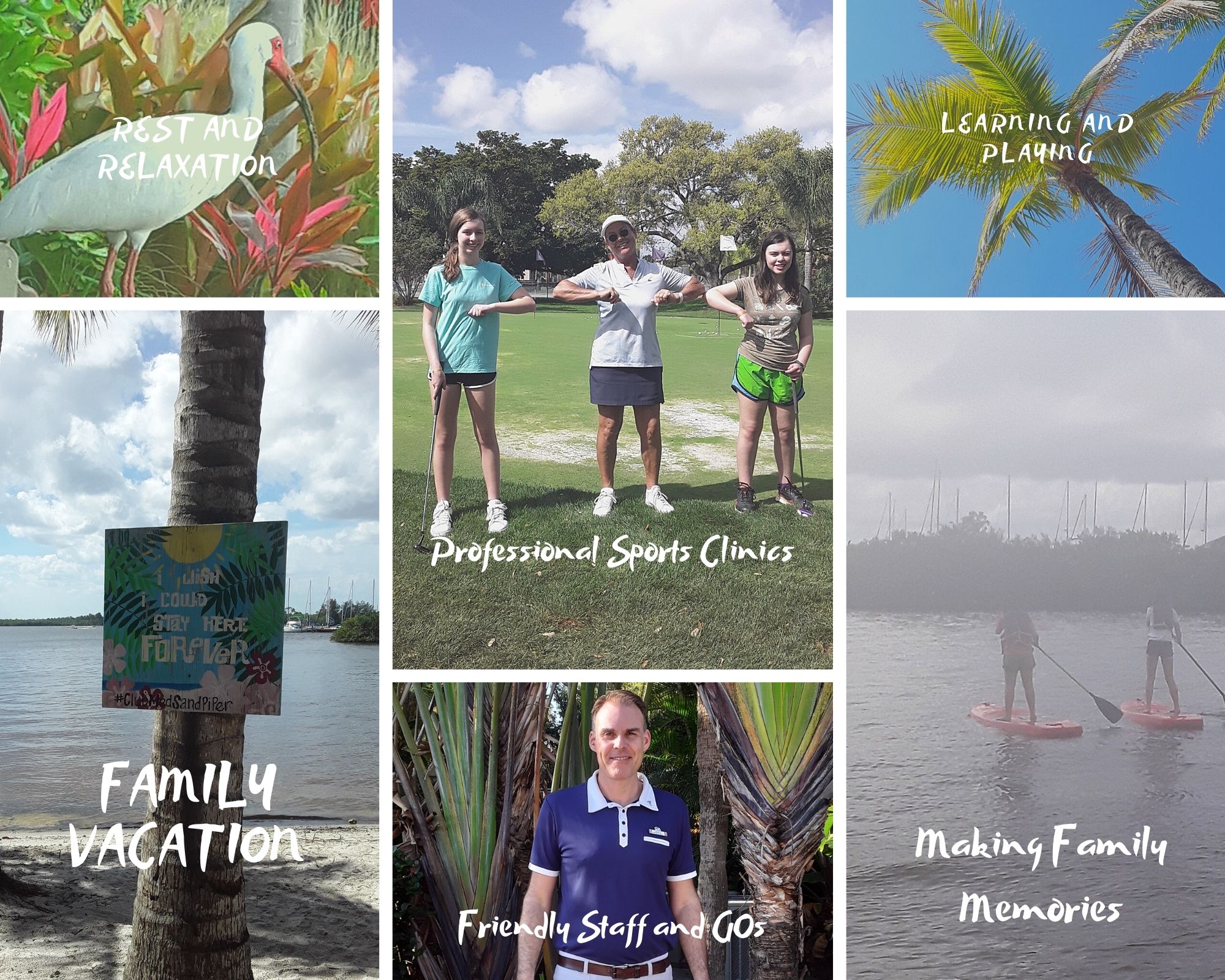 Take Advantage of Club Med Sandpiper Bay's Resident Rate: Residents of Florida, Georgia, North & South Carolina can receive 10% off with the promo code "SANDPI" at checkout, available for bookings through May 4, 2021 with select travel dates through August 27, 2021.