As an adult, I find that I am a bit of a history buff. I enjoy watching learning and history channels on television and following the unfolding suspense of genealogical studies. It is fair to say, though, that as a kid this was not something that would probably have held my interest. Teaching my own children, I am always trying to find hands-on learning methods that will hold their attention, and more importantly, stick in their memory for years to come.
As a mother who has tween/teen daughters, as well as parents enjoying their senior years (the sandwich generation), we sometimes come to a crossroad where we are looking for entertaining venues that both generations can enjoy. Recently, when looking for a destination, we decided to travel to Williamsburg, Virginia and the surrounding areas. What a great location to fit all of our needs! So much to see and learn in a way that really lets you "live" history. My children enjoyed it (and hardly knew they were learning at the same time!) and my parents really participated and had fun. It was a great multi-generational destination!
Colonial Williamsburg
Our first stop was Colonial Williamsburg. Forget the textbooks you had in school where you read out-loud from scenes of colonial times and the American Revolution. Colonial Williamsburg is the world's largest living history museum. Living is the operative word here. As a visitor you find that you step back into an actual 18th-century village. Those schoolhouse textbook images come to life for you as you visit over 40 sites/trades and four historic taverns. Visitors to Colonial Williamsburg can tour the homes and government buildings and stroll through the colonial gardens. There are also two world-class Art Museums which house the largest colonial-period archaeological collection in the United States! All around the town you will find accurately dressed actors/actresses in period costume who will hold a conversation with you relevant to the time period and location. One of our favorite stops was the Courthouse, which was actually used as a local courthouse up until the 20th-century! We learned the origin of "earmarked", "pass the bar", and "stand" as witness. If your family has any life-long learners or first-time learners, Colonial Williamsburg is loaded with opportunities to explore, live, and breathe history. If you want to walk around the town and go into shops, local restaurants, and see the buildings from the outside, it is free to walk through the colonial village. To enter into the historical buildings and experience the live history tours and discussions, you must purchase a single-day, multi-day, or annual pass ticket. Your children 5 and under are free.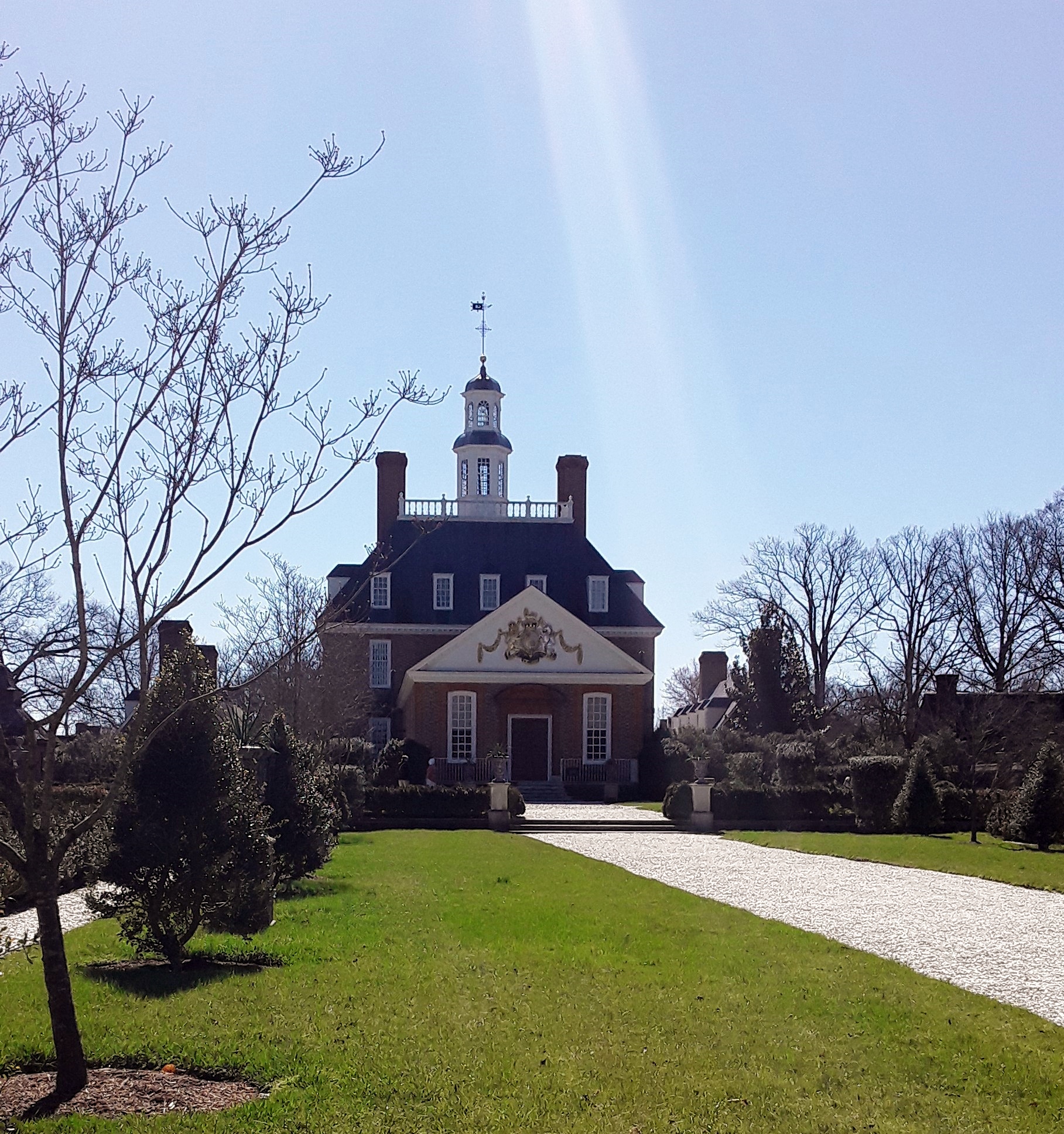 As a homeschool family, we also enjoyed the Homeschool Days that Colonial Williamsburg had to offer. During these dedicated learning times, homeschoolers and their families can enjoy hands-on activities and revolutionary experiences designed to make history come alive in a way that is educational and interactive. We enjoyed a private tour of the Governor's Palace where we learned more about the seat of British Authority in the colony. We learned first hand about what it meant to be British and how the Revolution affected the Royal Governor and his family. For these programs students under 18 must be accompanied by an adult with a Homeschool Admission Ticket and a Special Program Ticket. The next Homeschool Days sessions take place in the Fall of 2020 on September 5th through 20th.
Jamestown Settlement
Our next stop on our educational field trip was a quick drive (15 minutes) to Jamestown Settlement. Near the site of the original colony, Jamestown Settlement tells the story of 17th-century Virginia, from the arrival of English colonists in Jamestown in 1607 to the cultural encounters and events that planted the seeds of a new nation. The world of Jamestown, America's first permanent English colony, comes to life through film, gallery exhibits and outdoor living history.
Expansive gallery exhibits and an introductory film describe the cultures of the Powhatan Indians, Europeans and Africans who converged in 17th-century Virginia, and trace Jamestown's beginnings in England and the first century of the Virginia colony. One of our family favorites was the Powhatan Indian village. My daughters loved being able to go into perfectly recreated structures from the era and explore what a Powhatan hut, bed, and actual village may have felt like.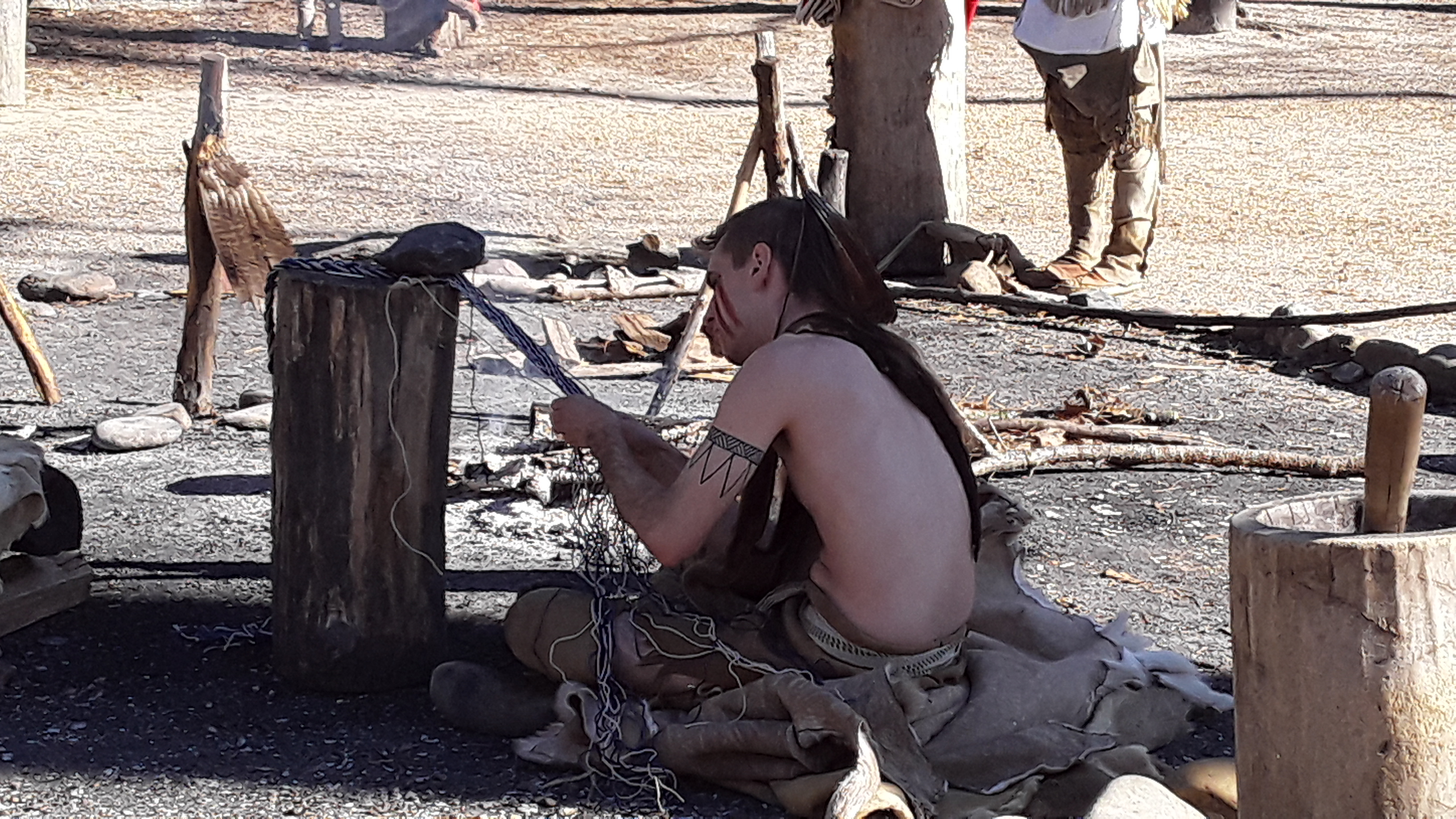 My parents and children, alike, enjoyed the "history is fun" theme and talking to interpreters and exploring structures. In fact, you can climb aboard a re-creation of one of the three ships that sailed from England to Virginia in 1607. We explored the deck, Captain's quarters, and below deck where early settlers would have endured months onboard the rocky sea as they traveled to this continent. In the outdoor areas, costumed historical interpreters describe and demonstrate daily life in early 17th-century Jamestown. Visitors can also explore life-size re-creations of the colonists' fort complete with roaming chickens.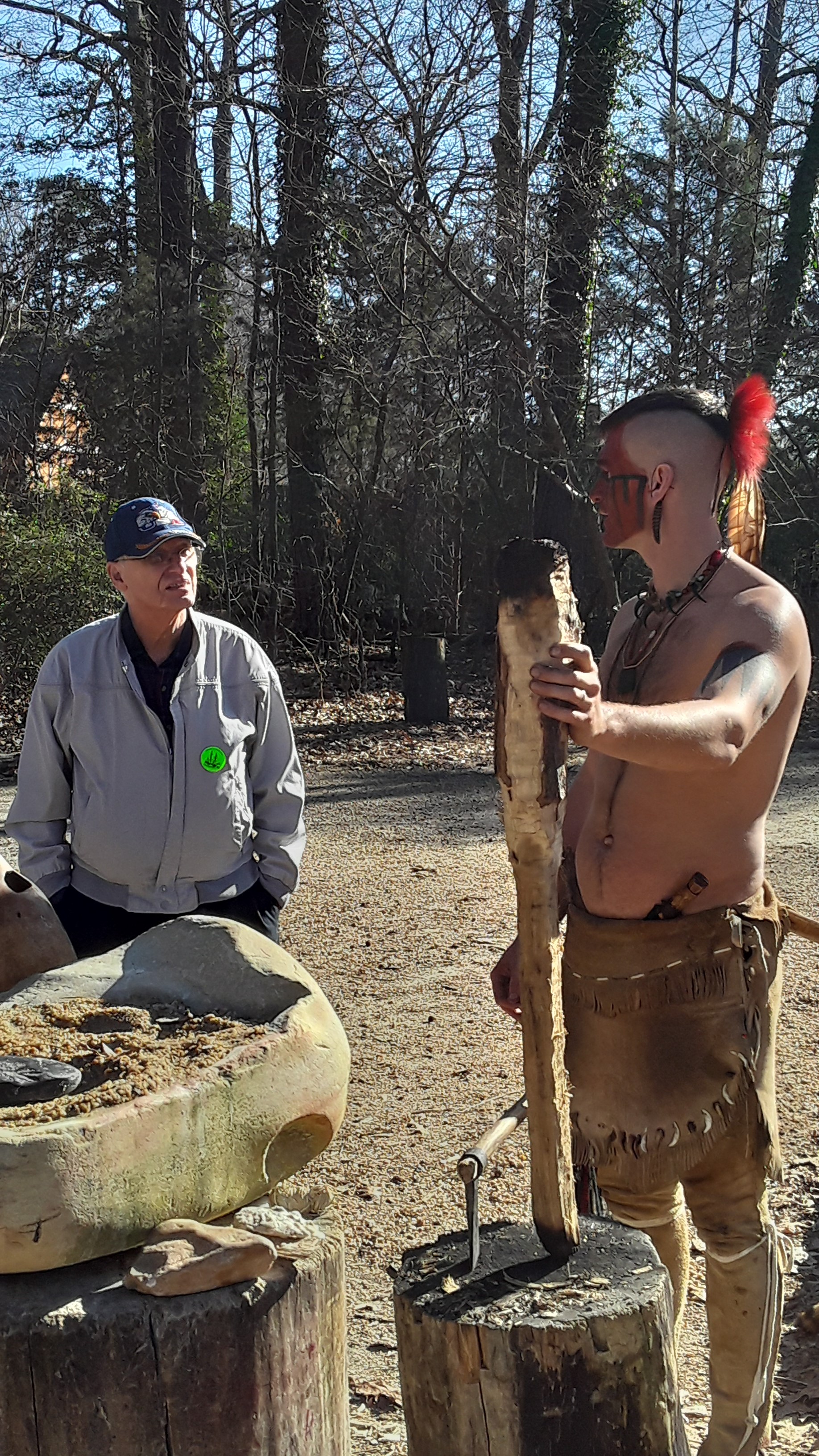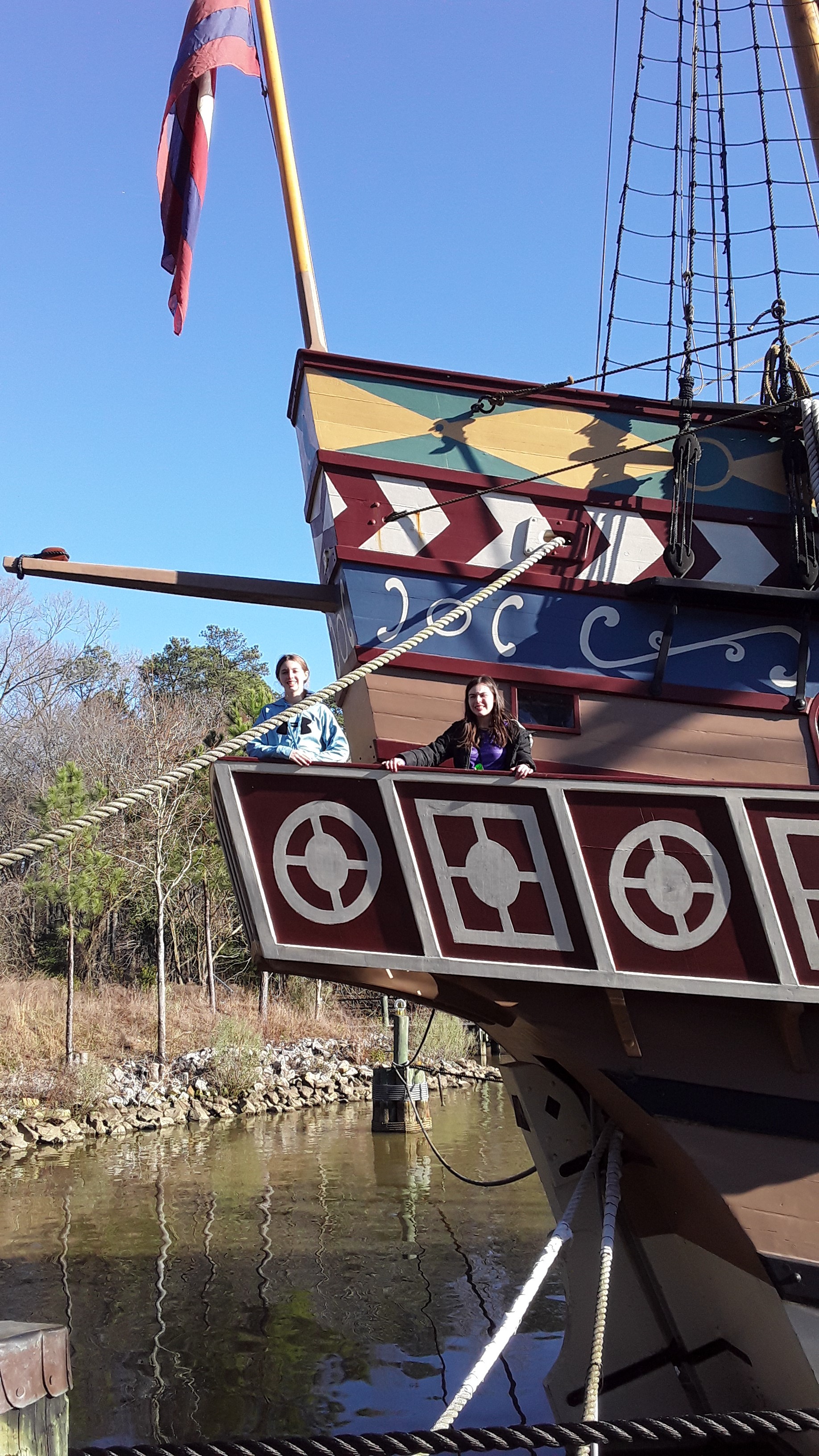 After walking around we stopped to get something to eat at the Jamestown Settlement Cafe and I got to try a first-time local favorite - Virginia Peanut Soup!. A variety of Jamestown admission tickets and vacation packages are available with Williamsburg area attractions. You can purchase tickets HERE for either single day admission, Triangle Passes (all three locations plus two parks for seven days), or Jamestown/Yorktown only (two locations plus two parks for seven days).
The American Revolution Museum at Yorktown
Our final stop was The American Revolution Museum at Yorktown. The museum tells the story of the nation's founding, from the twilight of the colonial period to the dawn of the Constitution and beyond. Exciting indoor galleries feature period artifacts, immersive environments, interactive exhibits and films, including "The Siege of Yorktown," with a 180-degree surround screen and dramatic special effects.
Outdoors, enlist in Continental Army in a re-created encampment to learn about the life of a soldier and take in daily demonstrations on medical treatment, camp life and cooking, and see firings of musket and artillery. One of our favorite parts was the encampment kitchen. Reading history books you never think about how the soldiers cooked! Large circular trenches were dug and individualized hearths were dug around the circle. One man from each tent (there were six men in each of these small tents that my two daughters may have a hard time sharing) was responsible for rotating kitchen duty. If they did not cook, that tent did not eat!
If you walk a bit further you can explore a Revolution-era farm, based on a real-life 18th-century family, to help with chores in the house, kitchen, tobacco barn, gardens and crops. The beauty and harshness of life for those early settlers comes to life and the reality of their fight for liberty is displayed in everyday garments stitched with the words "Give Me Liberty or Give Me Death!".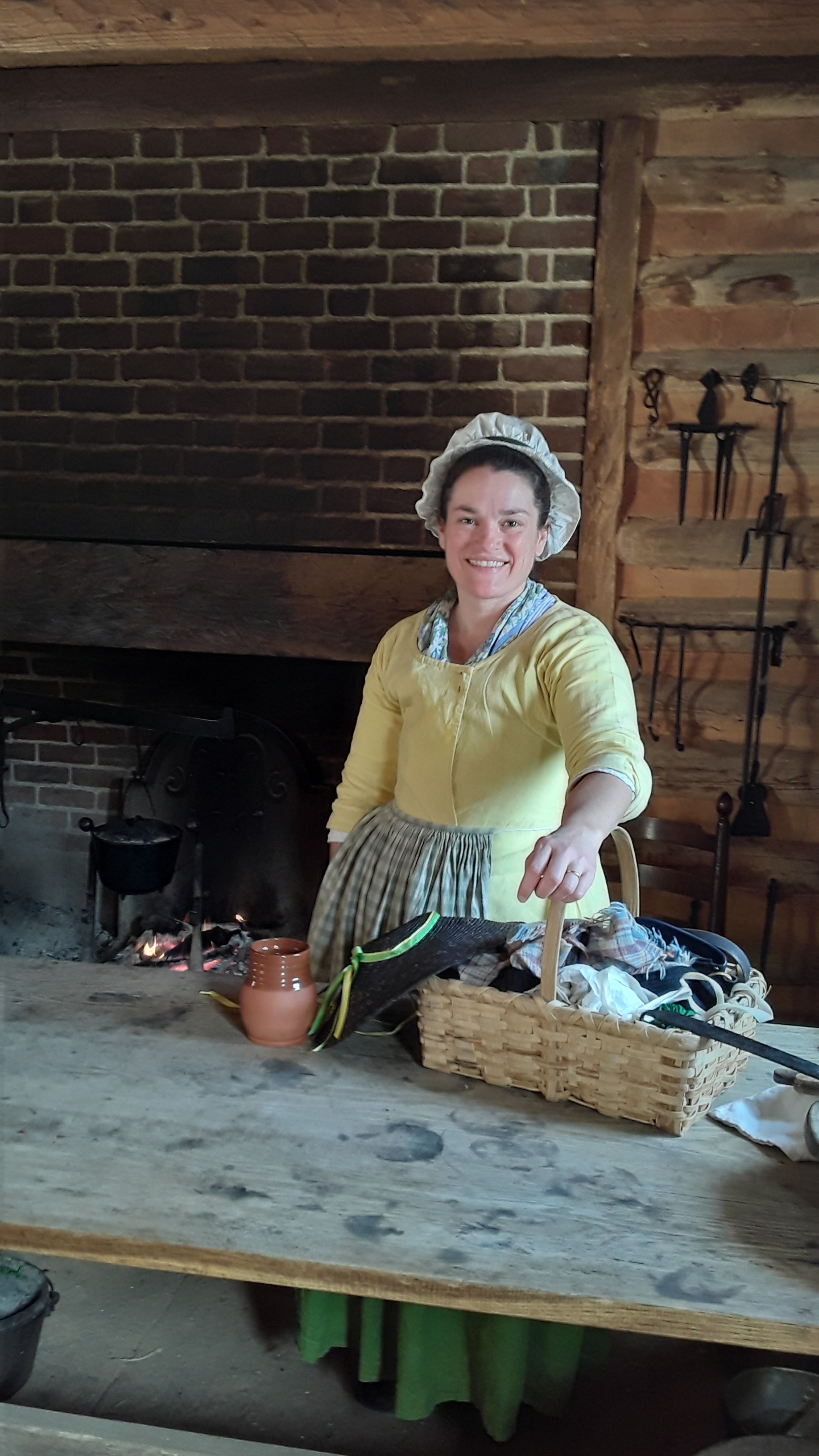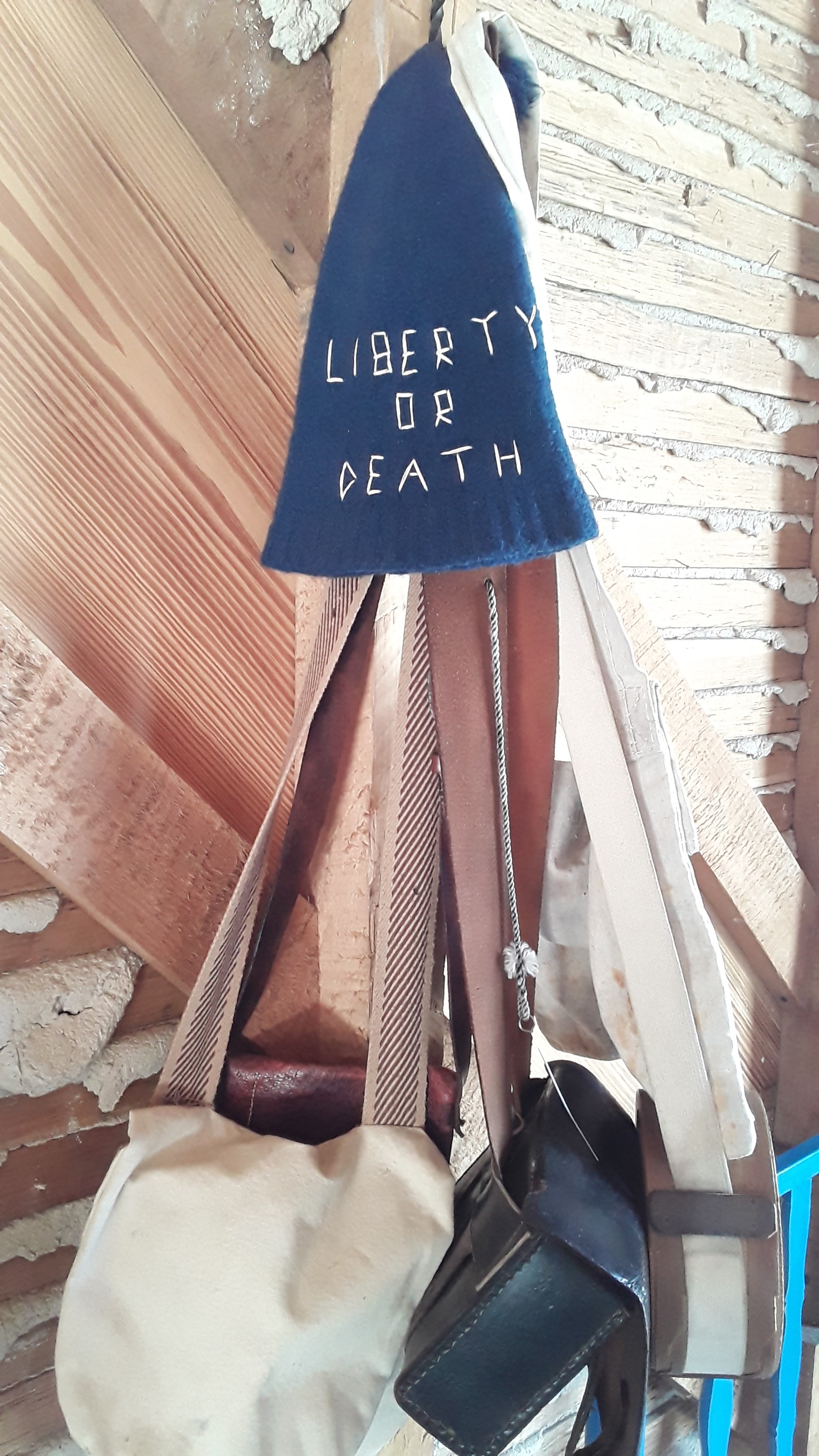 Family Travel Tips
Family Travel can be so much fun if you iron out some of the travel kinks ahead of time! Here are a few tips that were helpful to our family:
Travel by car is a great way to enjoy seeing the scenery and be able to stop along the way. The trip took us 8.5 hours by car so we were able to travel from North Georgia to Williamsburg, Virginia comfortably in one day. Sure, we made plenty of stops along the way, but the stops were some of the fun. One great stop that made perfect sense for this trip's continuity was Cowpens, South Carolina. We stopped at the Cowpens Revolutionary Battlefield, directly on route, and found out how this battle was instrumental to the later fought Revolutionary Battle in Yorktown!
Some additional fun stops while in Williamsburg area include the free ferry that departs from Jamestown. The original Jamestown Island site can also be accessed with a short ride from Jamestown Settlement. It is the original site and has very little to see in terms of living history, but does have historical markers and some Powhatan artifacts. Yorktown's Riverwalk Landing is another great stop where you can stroll through historic Yorktown and along the two acres of beach beside the York River.
My parents are in their 80s and had some mobility issues with all the walking that is involved in different stops. We found that several locations (Jamestown Settlement and The American Revolution Museum at Yorktown) had electronic scooters they could rent free of charge. This was a game changer for them! Colonial Williamburg also has a trolley on the main street that goes from stop to stop all day during main hours. These options are wonderful for someone with mobility issues.
We visited all sites in Williamsburg on a two-day trip with an overnight stay at the Embassy Suites By Hilton Williamsburg. It was centrally located to all locations (within 5-15 minutes) and within walking distance of several restaurants. Suite rooms there had lots of space (two separated bedrooms) that were perfect for large family traveling. The made to order complimentary breakfast was a bonus. With travel time accounted for, you could replicate this trip in a three to four day weekend! Win!


If you like this article please subscribe for free to Macaroni Kid Blue Ridge so you don't miss out on family friendly events, activities and giveaways that highlight North Central Georgia (Jasper, Ellijay, Blue Ridge, Dawsonville, Dahlonega, Cleveland, Helen, Blairsville and around)!!!